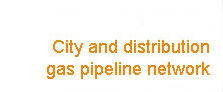 In 2005 INTERKLIMA started carrying out one of the most important projects in Vrnjacka Banja in the area of power supply, ecology and economy – gasification of Municipality of Vrnjacka Banja. This project followed successful construction of the main gas pipeline Kraljevo – Vrnjacka Banja and Main Measurement and Regulation Station "Vrnjacka Banja".
The scope of activities of INTERKLIMA comprises investment, design and construction of the gas distributive system. The system involves the city network, measurement and regulation stations to regulate the pressure within the network, distribution network and individual customers' connections. This project is still in progress.
In 2006 INTERKLIMA became the authorized distributor of natural gas in the territory of Municipality of Vrnjacka Banja, and it is certified by appropriate licences to deal with power supply – distribution of natural gas, retail trade of natural gas to tariff customers, and control of the natural gas distributive system.
So far, INTERKLIMA has completed construction of gas distributive network in the territory of General Town Planning Design of Vrnjacka Banja with over 120 km of network, about 1,400 connections, and over 1,000 customers. We are planning to expand the gas distributive system to the surrounding settlements in the territory of Municipality of Vrnjacka Banja.